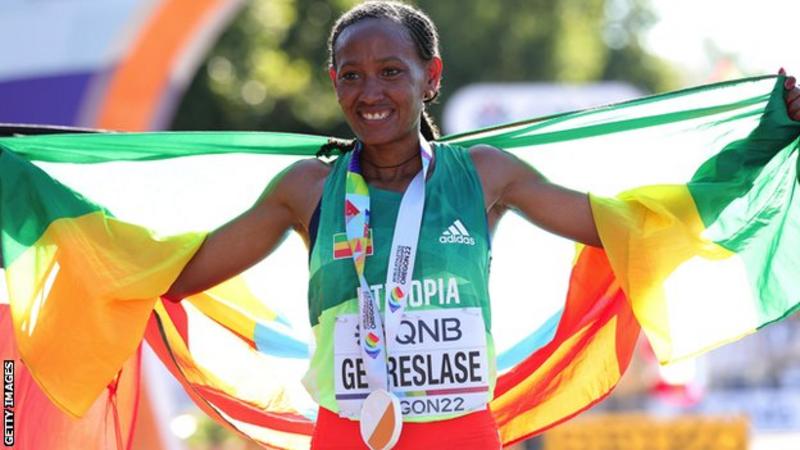 Conflict has been ongoing in Ethiopia's northern Tigray region since late 2020, while there has been unrest in the neighboring Amhara region which borders Sudan this year.
Gebreslase showed her emotion after the race, breaking into tears when asked what her victory meant for her and her country.
"Winning is a very impressive and amazing thing," she told BBC Sport Africa.
"I wish all Ethiopians to be victorious in everything. Women can all be winners when they work hard for themselves and for their countries.
"And I wish peace in my country, in all of Ethiopia."
Conguratulations!!!
ከቤተሰብህ አንዱ ታሞ ወይም ምን እንደሆነ ? የት እንደደረሰ ? የማታውቅ ከሆነ አይደለም መደበኛ ስራህን በአግባቡ ልትሰራ ቀርቶ ምግብ በአግባቡ አይበላልህም።
በጦርነት ያለፈ ቀውስ ከሆነ ደግሞ ስለ ወገንህና ቤተሰብህ የምታስበው በፍርሃት ሰቆቃ ብቻ ነው። በዚህ ችግር ውስጥ ሆነህ ደግሞ ምንም ነገር አለማወቅህ ሀዘንህን ያከፋዋል።
ተራ የቢሮ ስራ መስራት እንኳን ከባድ ነው። አትሌቲክስ ደግሞ በባህሪው በየእለቱ ልምምድ ፣ የስነልቦና ዝግጅት ፣ ..
አካላዊ ጥንካሬ ፣ የሀላፊነት ስሜት .. በአጠቃላይ ከስፖርቱ ከባቢው ለአፍታም ልትዘናጋና የማይፈቅድ ስፖርት ነው።
ይህንን ሁሉ መከራና ችግር ተቋቁመህ በስፖርቱ አለም መንገስ ማለት አስደናቂ ክስተት ነው። ሌላው ይቅር የቤተሰቡን ድምፅ ለአንድ ቀን ካልሰማ ቀኑን ሙሉ ደስተኛ የማይሆን ስንት ህዝብ ነው ያለው ??
ይህንን አሟልተው ለወራት በስልጠና ተዘጋጅተው ፣ በአእምሮአቸው ብቁ ሆነው ፣ በትግራይ ያለው ችግር መከራ በደል ውስጣቸው ታትሞ .. የቤተሰቦቻቸውን ድምፅ ለአመታት ሳይሰሙ … በሀዘን ተውጠው ..
በአለም አቀፍ የአትሌቲክስ ውድድር ማሸነፍ ማለት እጅጉን አስደናቂ ነው። ምን አይነት ፅናት ነው ግን ???
አትሌት ለተሰንበት ግደይና አትሌት ጎይተቶም ገብረስላሴ በቃላት የማይገለፅ ፣ በወሬ የማይነገር ታሪክ ነው የሰራችሁት።
የሁለታችሁ ፅናት ፣ ጀግንነት ፣ አሸናፊነት .. የትግራይ ህዝብ ባለፉት ሁለት አመታት ውስጥ ያሳየውን ብርታት የሚያሳይ ገድል ነው !!
Via Finfinne Times